The best weekend places in Da Nang
Da Nang is a city worth living because of its economic development, lifestyle, culture, thought and beautiful natural scenery blending with modern lifestyle, but wherever you are After a series of hard and stressful days of work, the weekend is truly a valuable time for us to relax, spend time with family that throughout the week we just know how to spin with work but miss out.
Saturday is the day for enjoying, it's only Friday you crave to go somewhere, find a new source of energy, but cannot go too far because of the limited time. Go then take a look at the suggestions Weekend places in Da Nang It's very interesting to have a decision right away, go on a contract with your loved one to do a stress-free trip right away.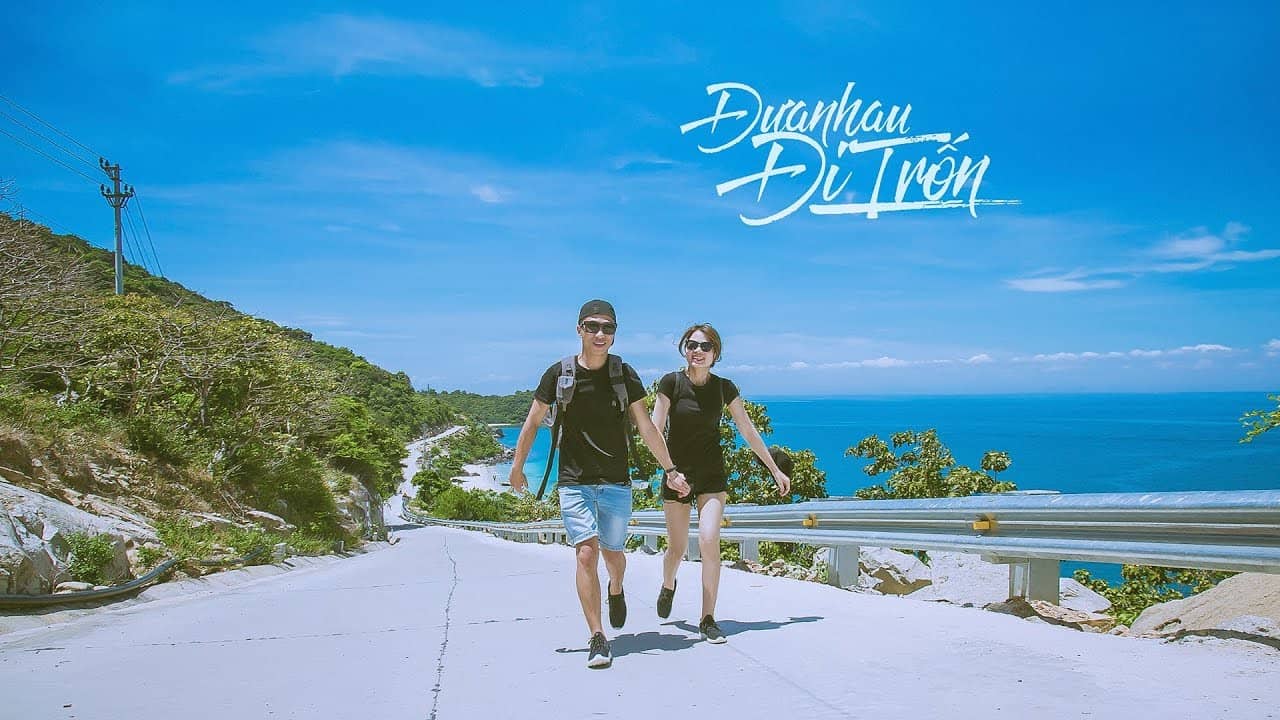 1. BACH MA VILLAGE
Address: Khe Su village, Loc Tri commune, Phu Loc district, Thua Thien Hue province.
This is a new place that has just emerged recently, but its hotness is not inferior to famous places for a long time. It must be said to make "hustle" to the association of enthusiasts to check in new places to post posts continuously.
At first glance, the photos shared on social networks, if not by name, many people still think this is a good scene in the movie in the distant Europe, but no!. This is only about 50 km from Da Nang city, very suitable for those who like to immerse themselves in the fresh air, completely can drive or go by convenient public transport without spending too much time.
The clear stream weaves through the ravines, through the green forest trees pouring into Bach Ma bathing area with so many essences and freshness of the natural cool and clean water, enjoy the feeling of natural spring bathing, playing waterfall, bathing in dry lake ... With a system of restaurants and bars, overnight campsite ... , it is suitable for the whole family and also the child members to play freely.
Camping and enjoying a night-time barbecue by the flaming fire lit up the night in the mountains is also a great experience, the evening sky brings a cold, cool as usual. Sipping some drinks, enjoying delicious food, confidently all night or singing songs of youth holding hands around in the middle of the blazing fire is probably a journey that many people expect.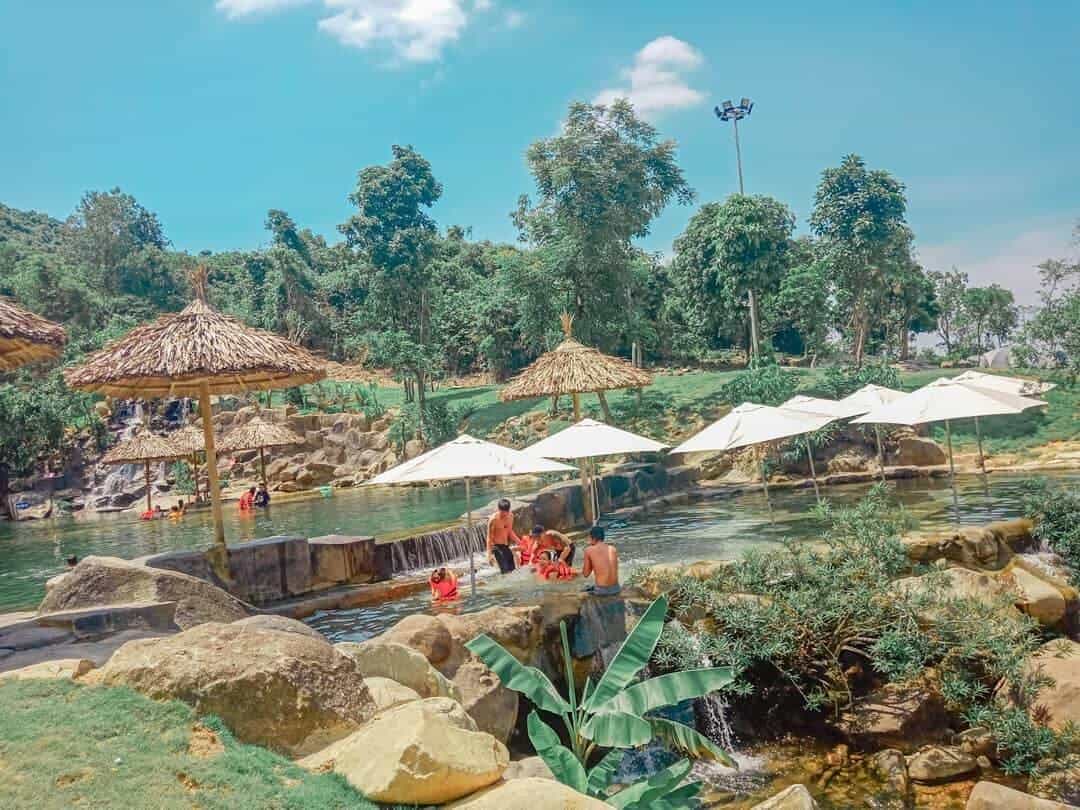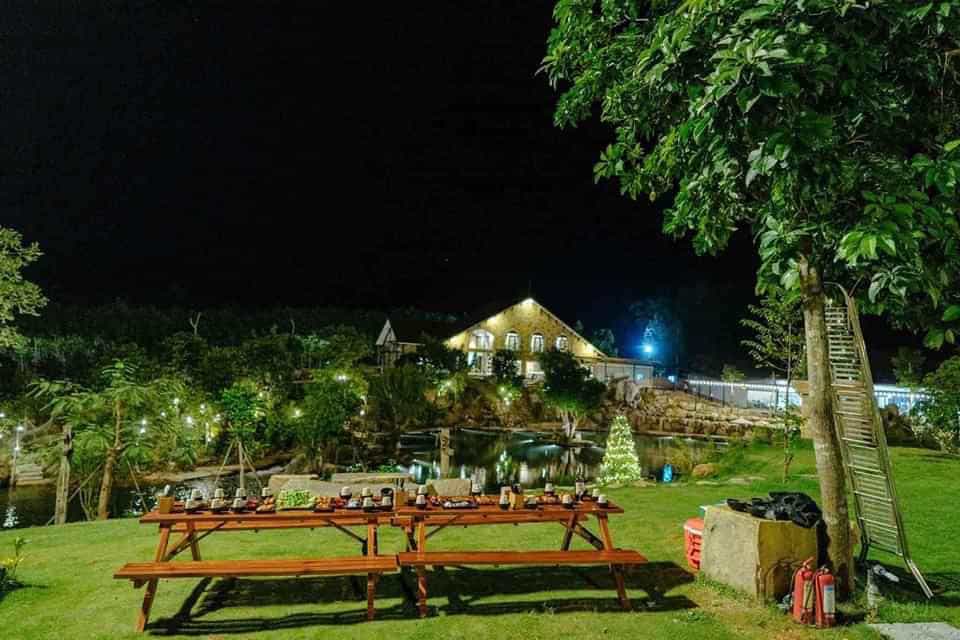 2. HOI MIT STREAM
The sun gradually enters the hottest days, in addition to swimming, bathing in the stream is a relaxing way that many people look for. There is no scorching sun on the face like when in the sea, bathing on a spring brings a feeling of freshness and Quiet, a little cool refreshing amidst the wild natural scenery, the sound of a strong waterfall and the sound of birds chirping happily.
Hoi Mit Stream is a place that meets the expectations of everyone the weekend outing was not too far from Da NangThe bald jackfruit is a poetic highlight in the midst of a vast landscape of mountains and forests. With giant rocks stretching, the vast clear water surface is spoiled for fun.
There is no need to prepare food to bring because in Hoi Mit Stream, there is also a system of restaurants serving tourists, enjoying delicious dishes at the hut with extremely reasonable prices and attentive service from the restaurant. When you come to Bald Jackfruit stream, you will have refreshing moments to accumulate energy to continue with the daily series.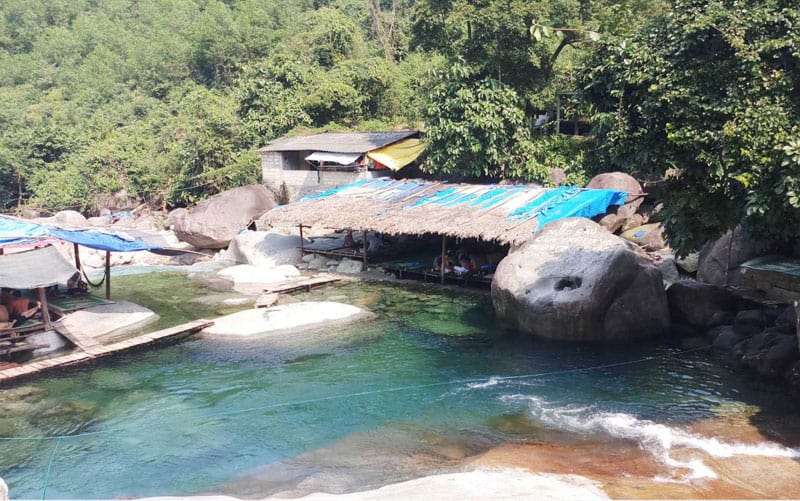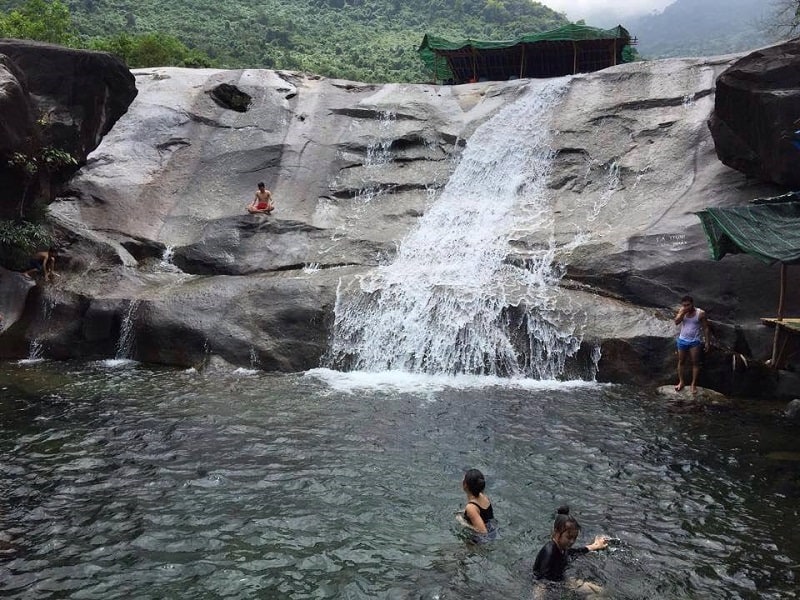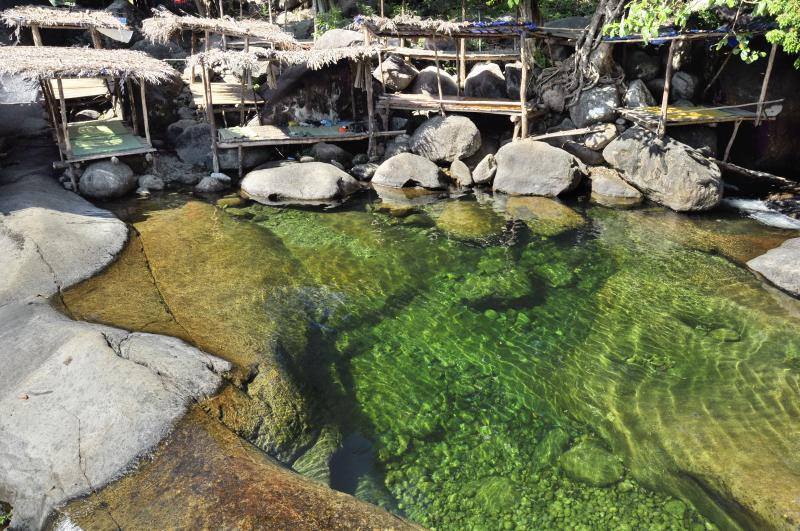 3. THAN TAI MOUNTAIN
Bathing in hot springs, soaking in natural mineral mud that brings many health benefits while enjoying a comfortable atmosphere is a type of "pampering" yourself that everyone likes.extremely attractive weekend fun place in Da Nang is one of the places that meets that need.
It doesn't sound appropriate when it's hot to go to the hot spring with the hot steam? But that is that you do not know all about Than Tai mountain tourist area. Season is only one day, cool air is covered by immense primeval forest.
This place is extremely favored by nature, because coming to Mount Than Tai, you will enjoy the refreshing, refreshing watershed stream to a very special relaxing hot mineral water source, professionally serving tourists' holiday such as "ONSEN" bath with Japanese standards, mud bath, tea bath ... Entertainment area for children, high-class restaurant area with rich menu to please visitors All contribute to creating an irresistible attraction list of weekend places in Da Nang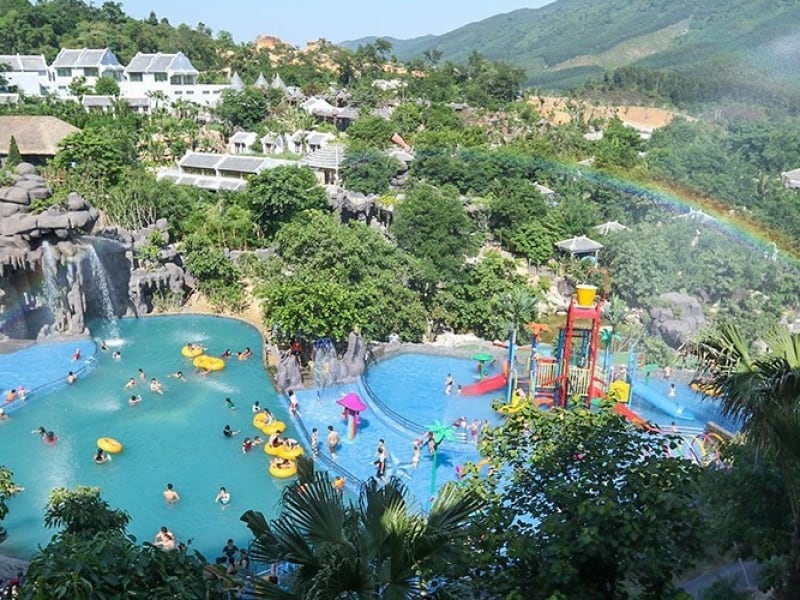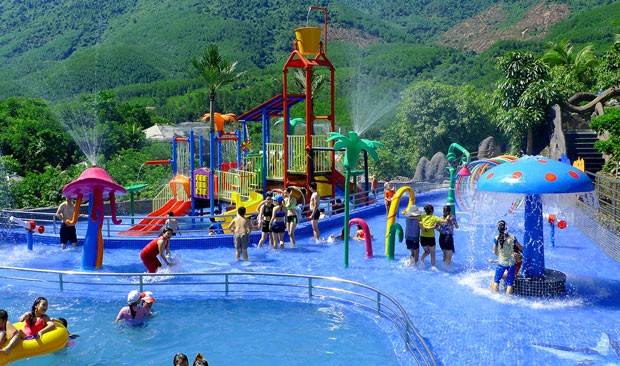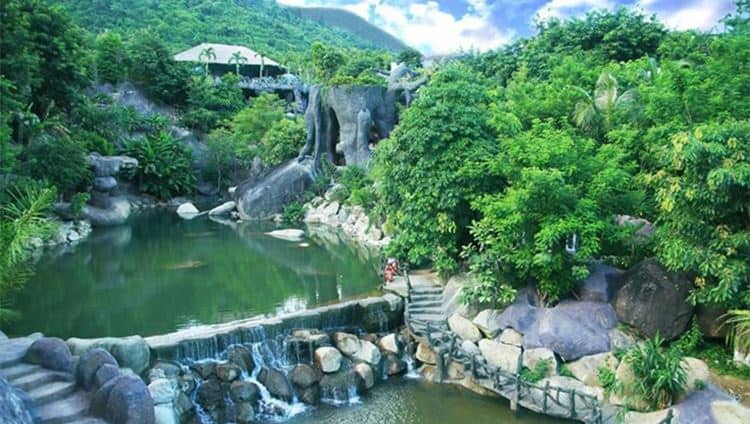 4. 7-HECTARE COCONUT TREE FORREST
Not only Ben Tre is the land of coconut, not going to the West is the river, even in Da Nang we can also enjoy the feeling of one day in the river in the Bay Mau coconut forest, feeling the atmosphere The West "runs" back to the Central for you to enjoy it.
The interesting thing in 7 hectare coconut forest is that hundreds of hectares of green coconut trees, visitors will experience the feeling of sitting on a basket boat, floating in the water, being rowing along the river watching the coconuts trees with leaves reaching across the water like giant combs.
Not only that, the dances, beautiful basket dances with the ingenuity of rowing make the basket boat rotate at will as it swirls around on the water and splashed with white bubbles.
Participating in fishing activities to challenge your patience and luck to see how much fish you will harvest on this trip, or go on stilts, bathe in ponds, ride a bicycle ... Activities you should try when coming to Bay Mau coconut forest.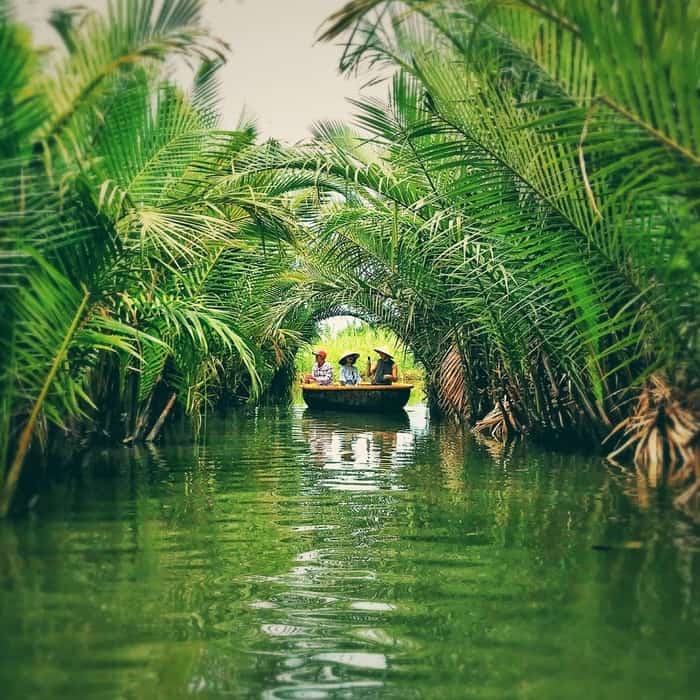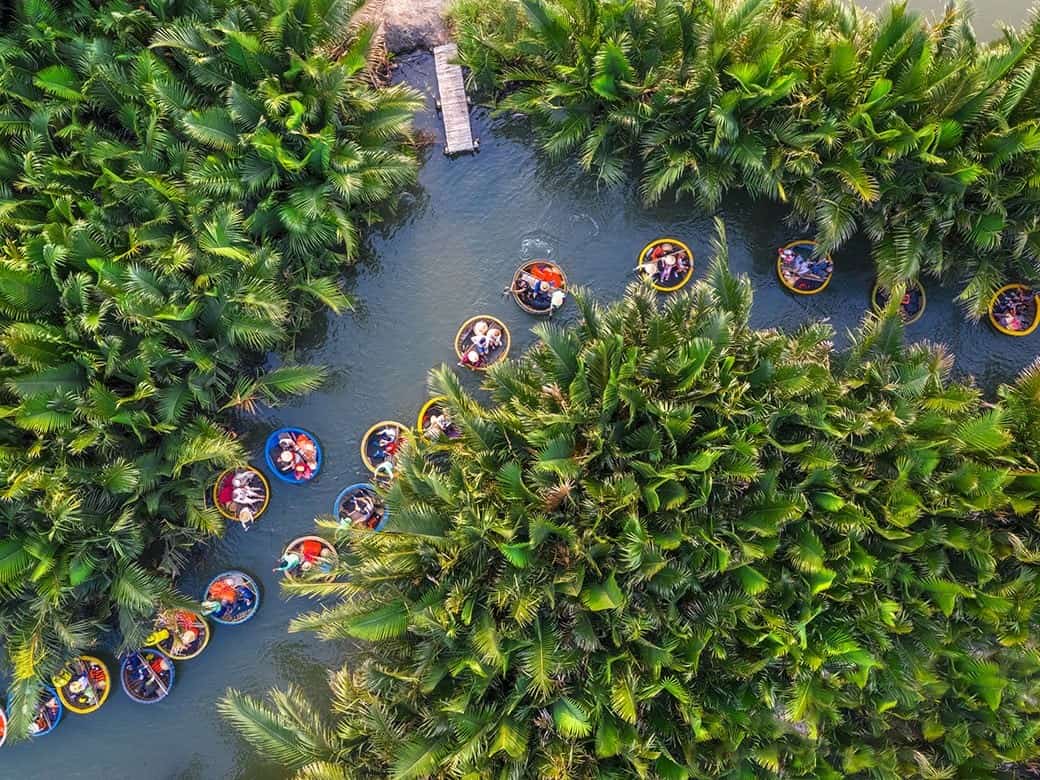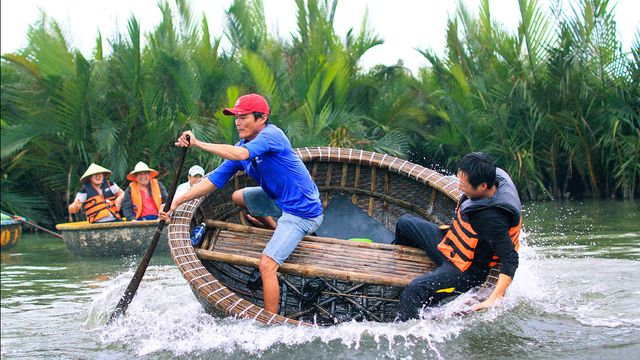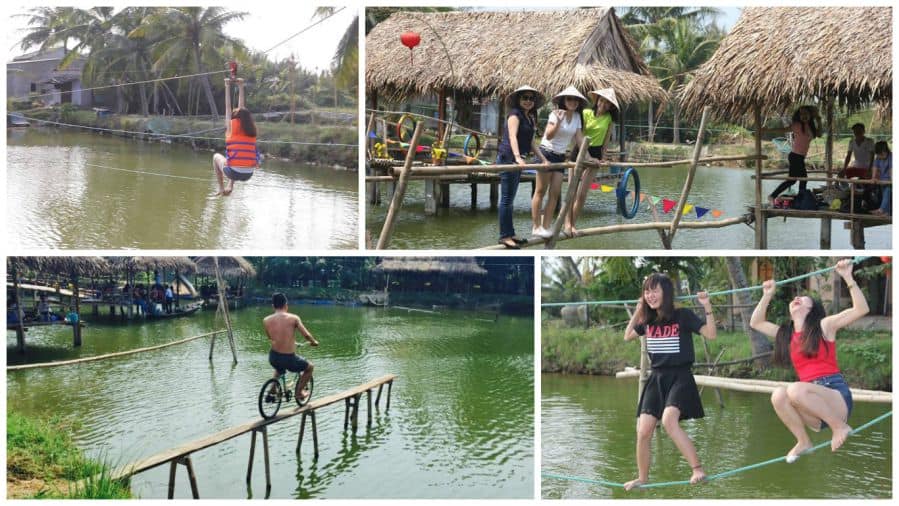 5. ASIA PARK
Asia Park is a weekend place in Da Nang As its name, coming to Asia Park, you will be able to take a tour of Asia to see the typical architectural works and cultural features of the countries with the "miniature" version right at Da Nang.
Asia Park is the paradise of entertainment, the world of laughter. Conquering self-gentle games to strong feelings brings dazzling moments, and "screaming" passionately.
Referring to Asia Park, people immediately think of the Sun Wheel with an impressive height of 115m, equivalent to a 25-storey building, sitting on the Sun Wheel slowly rotating up to a very high top looking down over a vast sky. Feeling like you are about to reach the blue sky freely, conquer impressive heights, there is no time to remember your troubles, only the refreshing feeling is gradually invading the whole planing.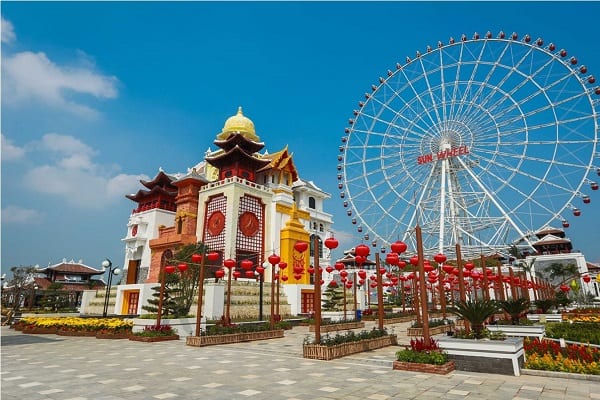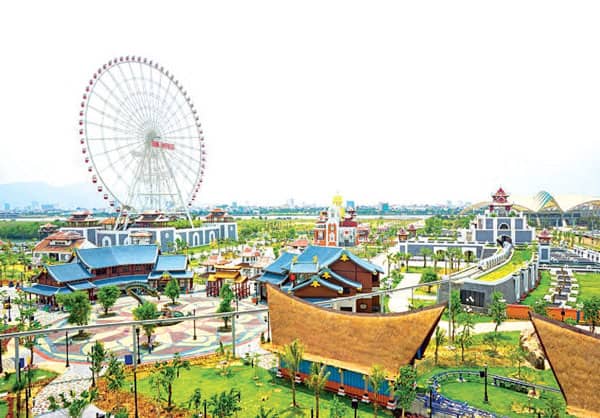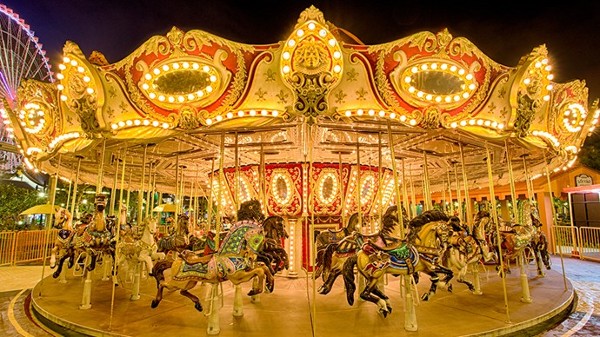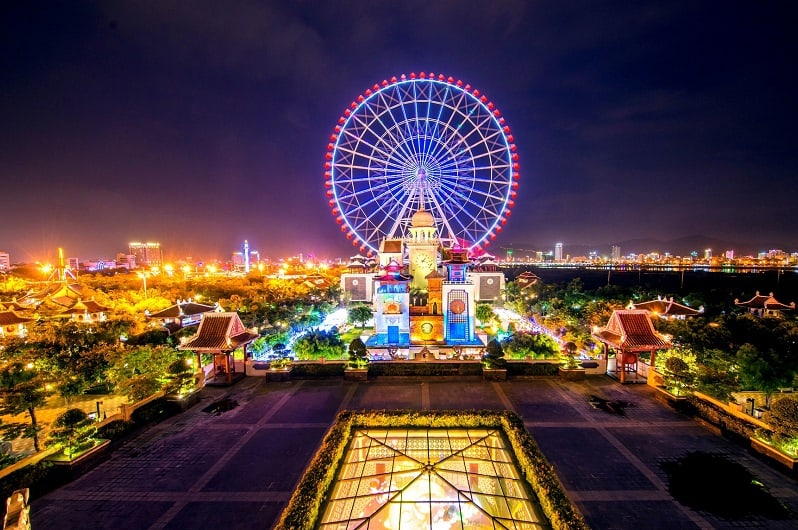 6. NHAT LAM THUY TRANG TRA
Belonging to Son Tra peninsula, near the top of the chess board, so on the way, visitors can enjoy the fresh and relaxed natural taste. Deep in the forest, stopping at Nhat Lam Thuy Trang Tra, we will be able to see rare natural sceneries, this place is also famous for the saggy banyan tree with an impressive lifespan of up to 1000 years, the shape of a deer, so it is called a bewildered tree.
Enjoy the unique cuisine, dishes from chicken, special wild vegetables such as giant vegetables, vegetables ... that rarely have the opportunity to taste, and do not forget to try the extremely unique coconut wine with esoteric formula only available at Nhat Lam Thuy Trang Tra.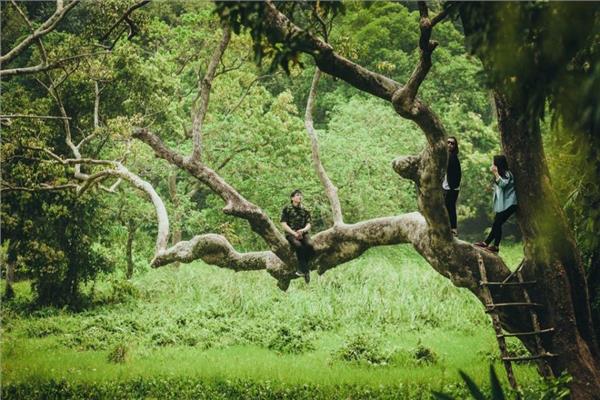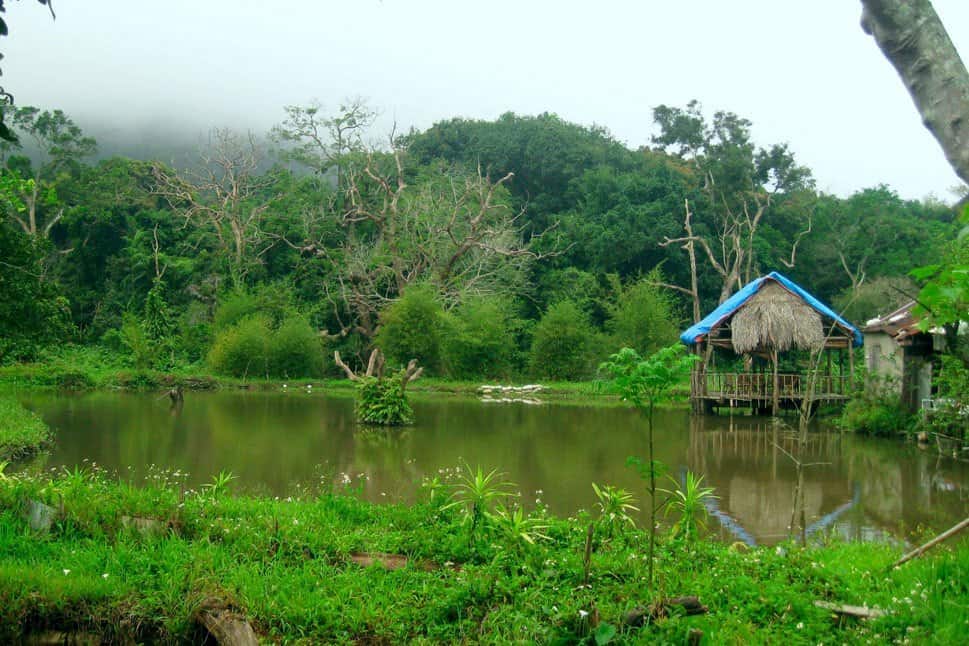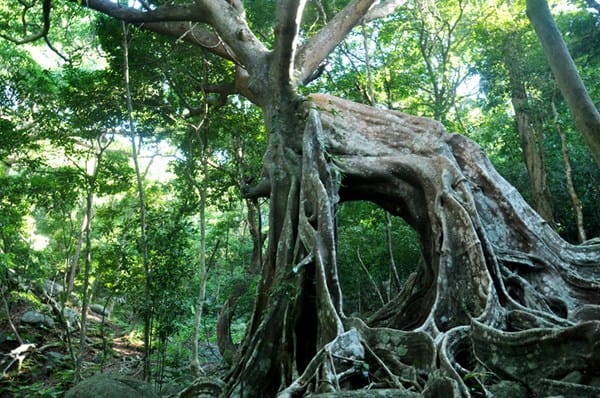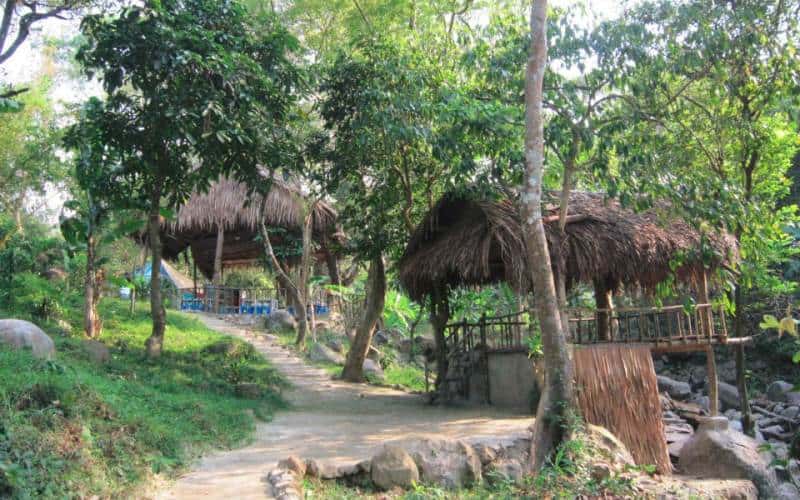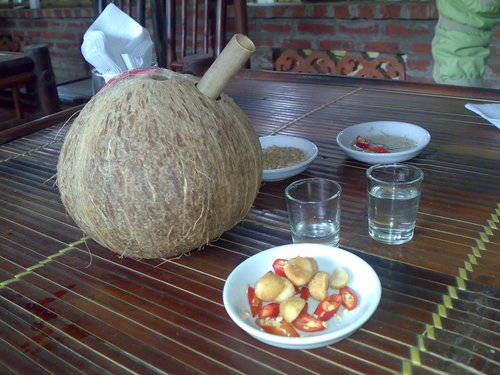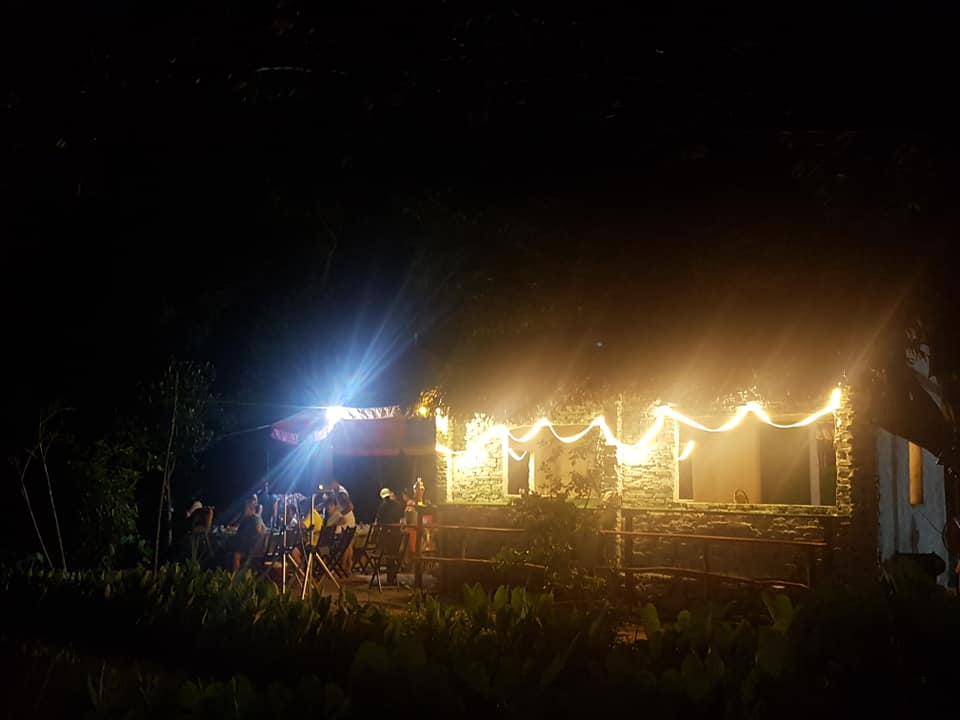 7. CU LAO CHAM
Weekend places in Da Nang to stay overnight must be mentioned Cu Lao Cham With the outstanding advantage of being a clean beach, quiet wild scenery, especially a cool and mild climate, it is very suitable for relaxation and stress relief.
Swimming and participating in beach games is of course the most popular activity when coming here because everyone wants to take advantage of the time to enjoy the clear blue water, which UNESSCO voted as a biosphere reservation area in 2009.
In addition, diving and watching coral on the seabed with oxygen masks can enjoy close-up views of coral reefs with fancy shapes and colors, visiting famous places such as Cham ancient wells dating back to 200 years. , the water source never runs out.
Visit the Cu Lao Cham marine museum to learn about the traditional customs, festivals, history, and marine life ... of the Cu Lao Cham island. Ancient architecture, many people come to pray for health and a smooth business way ...
Not only bring the feeling of immersing in nature, coming to Cu Lao Cham, visitors can also enjoy delicious dishes from a variety of seafood such as snail, sea urchin, abalone, sea crab ... at extremely soft prices. Walking around Tan Hiep market to buy souvenirs, this is also a market specializing in selling seafood and specialties such as squid, which is famous for being delicious to bring as gifts to relatives or serve in family meals.